Florist Flowers vs Supermarket Flowers. What is the difference?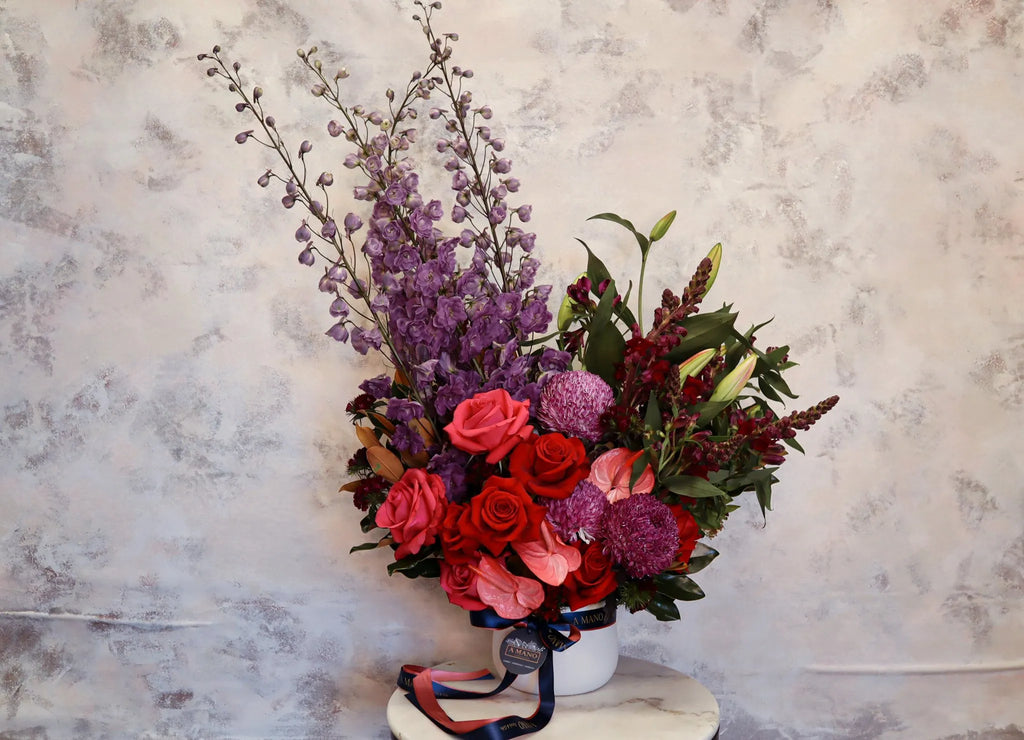 Can you think of anything more beautiful than fresh flowers?
One of nature's most beautiful and versatile products, there's nothing quite like a beautiful arrangement of freshly cut flowers to brighten up your office or home, celebrate a significant occasion, make someone you love happy or just for yourself! Flowers are used to show affection, express gratitude, remorse, and even condolence. In essence, flowers are a part of our lives; one way or another.
When it comes to choosing your fresh flowers, you may ask yourself, "What is the difference between supermarket flowers and flowers from a florist?" In simple terms, what you pay for is what you get. Let's take a look at the difference.
The reason supermarket flowers are cheaper.
Supermarkets buy in bulk, literally thousands and thousands of flowers, which are packaged and distributed to all of their stores. Because they buy in such huge quantities, they pay far less, hence they can afford to sell them at far cheaper prices. Due to the bulk distribution of flowers, a lack of care can occur. Typically, supermarkets sell lower-grade blooms whereas flowers sold by a florist are of much superior quality.
Here are some top reasons you should always buy flowers from your local florist.
Florist flowers are more vibrant and fragrant
At A Mano Florals, we take pride in sourcing our flowers from local growers who cut the flowers at the ideal time to ensure maximum freshness. We pride ourselves on our high-quality and premium blooms. The quality of flowers from our florist is directly related to when they have been freshly cut, and how they have been transported and stored. Flowers that are freshly cut have better quality and appearance, making them more vibrant and fragrant than those that have been sitting in storage for an extended period of time. In fact, studies show that flowers can lose up to 60% of their freshness in just 5 days.
Florist flowers last longer
Flowers from a florist stay fresh for longer compared to the supermarket. This is because the flowers are professionally treated, such as keeping them in the right temperature, applying the right amount of plant food, changing the water frequently, caring for different flower needs, etc. The supermarket treats all their flowers equally. Supermarkets also tend to place their flowers closer to the fruit and vegetable aisle, which is harmful to the flowers due to the ethylene they produce.
Florists offer more flower varieties
At A Mano Florals, we stock a large variety of unique flowers and styles that supermarkets don't cater for. When you need to buy flowers, you can speak to our friendly team over the phone or head down to see your floral experts in person. We will help you choose the best option for your needs from our wide variety on offer. From floral arrangements in ceramic pots or hatboxes, hand-tied bouquets that come in vases and jars to a flower bar where you can select individual flowers and so much more.
Florists tailor flower arrangements to your needs
Nothing beats the experience you receive stepping into a florist. At our boutiques, you are welcomed with an array of colourful options, hit with the sweetest smells, and served with attention and care. Our team of dedicated florists are here to help you along the way with excellent service. We offer luxury packaging, wrapping, and ribbon so your gift flower bouquets look exceptional. In essence, you get personal customer care and service with professional advice, a service the supermarkets cannot match.
Visit one of our three locations and see for yourself the A Mano experience where passion creates quality.